We created this page to help answer some of the most common questions we receive from customers.
Do you ship globally?
Yes, we ship all over the world. For some products, the shipping costs will vary depending on where you are located, but you can calculate this when entering your address on the Checkout page.
Where do you ship from?
In order to bring you the best possible French Bulldog products available on the market, we work with a range of different suppliers, many of whom are located in different parts of the world. Each of these partners sends the products directly to our customers.
The three primary places we ship from are China, the United States, and Australia. With over 80% of our products being shipped directly from suppliers in China.
How long does shipping take?
The processing and shipping times can vary depending on the product you buy and the place it is distributed from.
To give you an idea of how long it will take to receive your goods after ordering, here is an insight into the shipping process we go through each time an order comes in:
A customer places an order on our store.
We process the order and send it to the relevant partner within 24 hours.
The partner then takes between 2-4 days to process and prepare the order to be shipped from the warehouse to the customer.
Once the order has been shipped from the warehouse, the delivery time ranges depending on your location and the customs regulations of your country. Some orders will be delivered in as little as 10 days (which is most common) while others could take up to 35 days to arrive (which is unlikely).
Important Note: If you buy more than one product in the same order, they may be shipped separately.
How do I check/track my order?
We track all orders for our customers to ensure they are delivered within the expected timeframe. If you are concerned about your order or would like to get an update on its status, please contact us at [email protected].
What is your Returns Policy?
Read more about our Returns Policy here.
Which payment methods do you accept?
We accept payment via two payment gateways; Stripe and PayPal.
Stripe enables customers to pay via Credit Card and it accepts most major cards.
PayPal also enables customers to pay via Credit Card, however, it also allows you to pay via a PayPal account which may be associated with your bank account.
Both Stripe and PayPal are highly respected organizations with an emphasis on data security and protecting your information.
Which currencies can I pay in?
We accept payment in 5 different currencies; AUD, USD, GBP (Pounds), EUR (Euro), and CAD.
You can toggle between currencies using the slide out menu on the right hand side of the screen: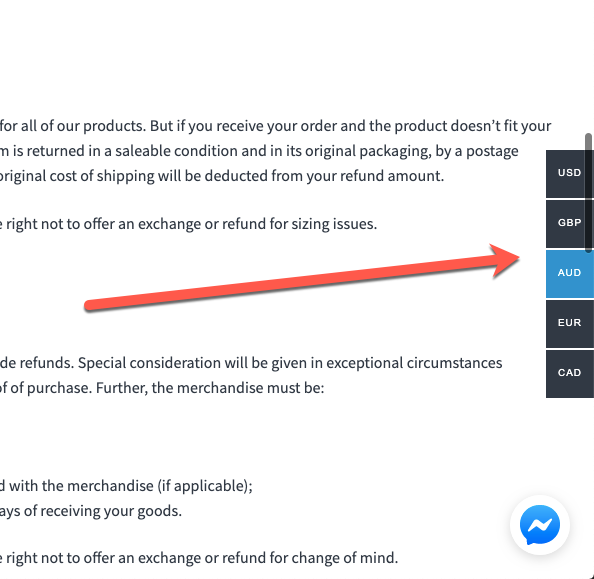 How do I know which size is right for my dog?
We do our best to provide in-depth sizing information for all of our products which you can find on each individual product page by scrolling down to the 'Description' section.
Please look closely at the sizing information before choosing your size and making a purchase.
Take note that the measurements we provide are of the products themselves. For clothes, these measurements are not meant to be the exact size of your dog. When measuring your dog make sure to allow for additional space – especially in the chest and neck area.
What is the conversion from Centimetres (cm) to Inches?
Some of the sizing information we provide is in Centimetres and some are in Inches. Here is a general guide for calculating the conversion of these metrics:
From Centimetres to Inches – divide the number by 2.5. For example, 100 Centimetres divided by 2.5 is 40 Inches.
From Inches to Centimetres – multiply the number by 2.5. For example, 100 Inches multiplied by 2.5 is 250 Centimetres.
I have a question which is not listed here
If you have a question which is not listed here, please send us an email at [email protected].